Nematic and Smectic Liquid Crystals
Nematic and Smectic Liquid Crystals
Introduction
Nematic liquid crystals (NLC) are the most structurally similar to crystals among all liquid crystals. In such liquid crystals, rod-like molecules are arranged in parallel with each other to form layered structures. The long axis of the molecule is perpendicular to the plane of the layered structure. The arrangement of molecules in the layer has a two-dimensional order. But these layers are not rigid, and molecules can move within them.
Smectic liquid crystals are composed of rod-like molecules with large aspect ratio, and the molecular centroid has no long-range order. Similar to the fluidity of ordinary liquids, molecules do not arrange into layers, it can slide up and down, left and right, back and forth, stick-like molecules maintain only one-dimensional order. They are parallel to each other, but the center of gravity is disordered. Under the action of external forces, the rod-shaped molecules are easily oriented along the flow direction and can cross each other in the orientation direction. Therefore, the macroscopic viscosity of smectic liquid crystals is generally small, while their fluidity is the largest among liquid crystals.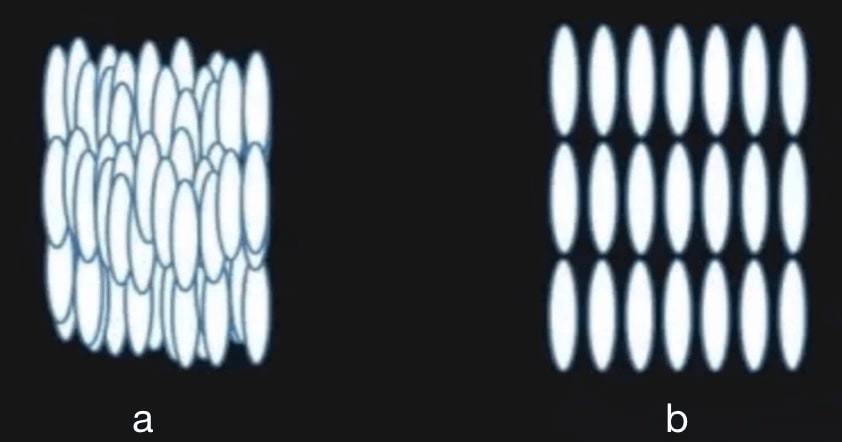 Fig 1. The structures of smectic liquid crystals (a) and nematic liquid crystals(b)
Application
The nematic liquid crystal is the most ordered one in the liquid crystal system, and its molecules are arranged in a layered manner in the spatial direction[1]. At present, a variety of nematic liquid crystals have been found, which can be used to increase the interaction force and carrier mobility of organic materials and improve the conductivity. In recent years, the bistable properties of nematic liquid crystals have been used to fabricate novel liquid crystal display, such as electronic photo frames, electronic billboards, intelligent dimming glasses, etc. However, due to its high viscosity and insensitivity to external temperature and electromagnetic field, it is difficult for the molecule to rotate under the action of electric field, that is, the driving voltage is larger, not suitable for fast-response monitors such as computers, televisions, etc.
When smectic liquid crystals are irradiated by X-ray, they show fuzzy diffraction, which is sensitive to external electric field, thermal shear stress and image. Smectic liquid crystals can be filled between two glasses with orientation groove. Due to the action of force, the long axis of the liquid crystal layer near the glass is arranged along the orientation groove, and the long axis orientation of the middle liquid crystal layer is gradually transited to form twisted smectic liquid crystals. Each area can be controlled by an electric field, and a color filter is placed behind each sub-pixel. When light passes through it, different colors can be obtained, and a full-color display can be formed. The twisted smectic liquid crystal is widely used in optical information storage, optical information processing, projection TV, large screen display, computer terminal, optical simulation military training, robot vision and other key electronic device.
Reference
C T Imrie, G R Luckhurst. Liquid crystal dimers and oligomers[J].In Handbook of Liquid Crystals.Vol.2B, Wiley-VCH, 1998: 801-833.
Inquiry