Synthetic Reagents for Solar/Photovoltaic Materials
Synthetic Reagents for Solar/Photovoltaic Materials
Introduction
There are many methods to produce solar/ photovoltaic materials, and materials with different characteristics can be prepared through different methods. The production methods of solar/ photovoltaic materials mainly include liquid phase method, gas phase method and gas assisted liquid phase method, as shown in figure 1. These methods all involve the use of synthetic reagents.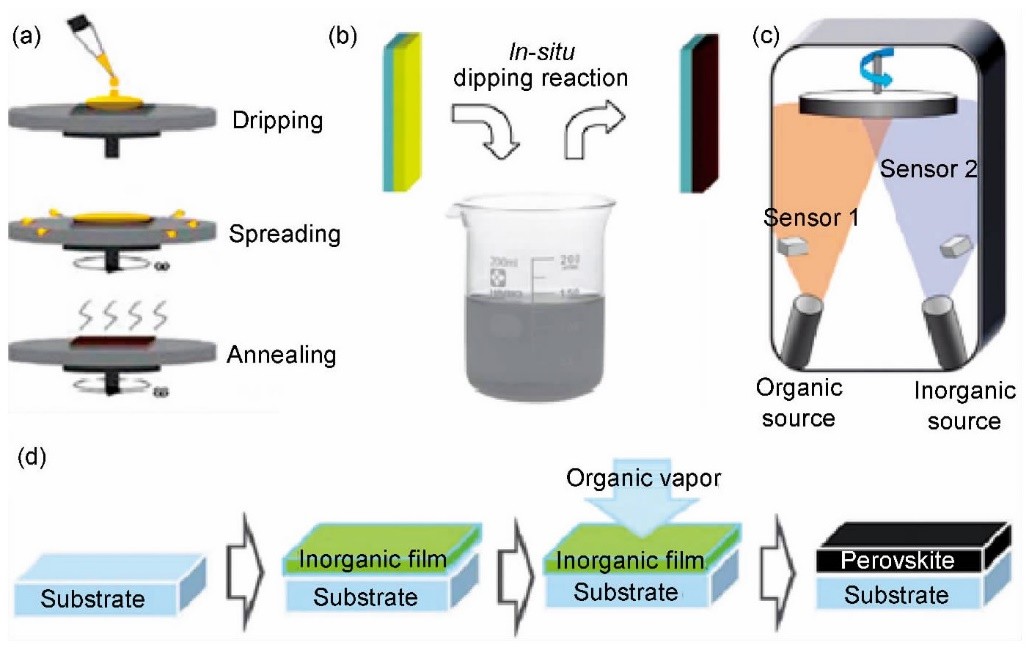 Figure 1. Four common methods of preparing photosensitive layer (a) one-step precursor deposition (OSPD) method; (b) two-step sequential deposition method; (c) dual-source Vapor deposition method; (d) vapor-assisted solution process
Synthetic Reagents for Photovoltaic Materials
With the continuous optimization of the performance of photovoltaic devices, the reliability and stability of photovoltaic materials have higher requirements. As an important synthetic reagent of photovoltaic materials, organic small molecule photovoltaic donor materials play an important role in the development of organic photovoltaic cells. Organic small molecule materials with good photovoltaic performance often have a certain flatness to ensure the π - π interaction between molecules. Too strong flatness will cause excessive aggregation of molecules. Among many synthetic reagents with torsional structure, spirobifluorene can be used as the center of three-dimensional organic photovoltaic small molecule materials. Its good photoelectric properties and unique three-dimensional spiral structure are indispensable factors for obtaining high energy conversion efficiency, It can be combined with pyrrolidone, perylene imide and other synthetic reagents to form a three-dimensional four arm receptor small molecule material, and obtain high energy conversion efficiency.
Synthetic Reagents for Solar Materials
Synthetic reagents for solar materials are similar to photovoltaic materials. Up to now, almost all high-performance organic polymer solar cells use fullerene derivatives as receptors,. There are also many kinds of reagents for the synthesis of fullerene derivatives. For example, the 3,5-dichloro-4-pyridinone is used as the synthesis reagent to first condense with p-toluenesulfonyl hydrazide to generate 3,5-dichloro-4-pyridinone p-toluenesulfonyl hydrazone, and then cycloaddition with fullerene C60 to synthesize fullerene C60-3,5-dichloro-4-pyridinone derivatives. In addition, the fullerene p-toluidine derivative C60(NC6H4CH3)n can also be synthesized through two steps with fullerene (C60), bromine (Br2), octabromo fullerene (C60Br8) and p-toluidine (C7H9N) as the synthesis reagents.
Application
Solar/photovoltaic synthesis reagents are widely used in the synthesis of solar/photovoltaic materials. It plays an important role in doping, interface modification and crystal structure change of solar/photovoltaic materials. In addition, the development of new solar/photovoltaic materials is also inseparable from synthetic reagents. Synthetic reagents for solar/photovoltaic materials are the important molecular building blocks that simplify the process of material synthesis. It is important to improve the performance of solar/photovoltaic materials by a rational combination or selection of synthesis reagents. With the increasing trend of commercialization of solar energy/photovoltaic, its synthetic reagents have also gone deep into all walks of life and become a hot research topic in the energy field.
Reference
Zhao, Min, et al. Microwave Sintering Rapid Synthesis of Nano/Micron β-SiC from Waste Lithium Battery Graphite and Photovoltaic Silicon to Achieve Carbon Reduction. Sustainability, 2021, 13.21: 11846.
Inquiry